Sometimes I think life is all about me. I mean God redeemed
me
. God saved
me
. God loves
me
. You have similar thoughts don't you? Like any good parent, God is focused on his children, right?
God has been revealing a bit more to me of what it's all about. Recently I'd been working on memorizing Ephesians 2:6-7. (Been slow going since life seems to be full of LIFE and not a lot of down time!) In the NLT it reads, "For he raised us from the dead along with Christ and seated us with him in the heavenly realms because we are united with Christ Jesus.
So God can point to us in all future ages as examples of the incredible wealth of his grace and kindness toward us
, as shown in all he has done for us who are united with Christ Jesus." Isn't that a cool picture? God wants to point to us and say, "You want to know about me. Well, here, take a look at them. Just look at how rich I am in grace and kindness. Look at what I've done for them. This is who I AM.
I am reminded me of another passage that I love. Isaiah 61:3 tells us that "In their rightousness, they will be like great oaks that the Lord has planted for his own glory." I actually like the wording in the NIV best, "They will be called oaks of righteousness, a planting of the LORD for the display of his splendor.."
Doesn't that make you stand up straighter and dust the dirt off your pants (or straigthen your skirt)? I am a display of God's grace, kindness, and splendor. That doesn't mean I'm wonderful and worthy of it, but it means instead that because of it I am wonderful and found worthy!
As God points to you, what are you revealing about Him? Is His work evident in you? Are you living daily knowing that you are a display of who He is to those around you? God wants to point to you and say, "Yep. This is an example of the kind of work I do. If I do say so myself, it's the best there is around." (And God really can boast that, can't He?)
Be sure to check out other posts or join the reading at DeeDee's
I Have No Greater Joy
.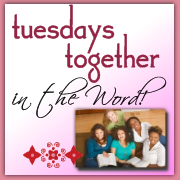 .